What are Autoresponders?
Autoresponders help you send automatic emails to a specific group of people on your email list. Events of interest trigger these emails. These events include joining your list, buying a similar product, and browsing patterns. You can also create a new list specifically for those who demand your product.
Creating an Autoresponder
You can easily create an autoresponder by referring to our video tutorial here or check out our step-by-step guide stated in this section.
To create an Autoresponder, log in to your Mailercloud account.

Select "Autoresponder" under the campaign drop-down menu appearing on the left. 

Click on the "Create an autoresponder" button appearing on the top right/center of the window.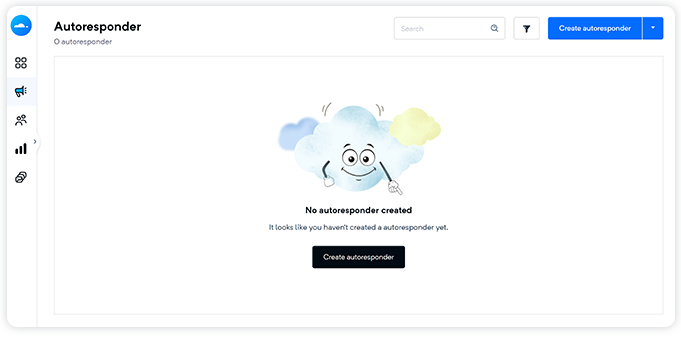 Fill in all the details appearing in the form appearing.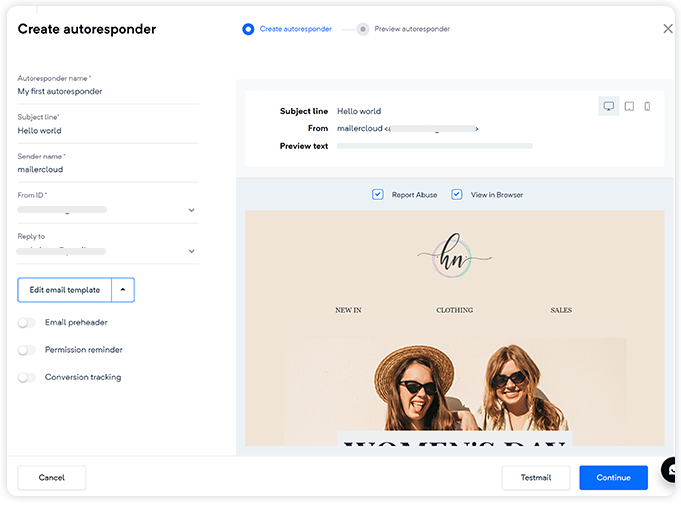 Test your email by clicking the "Test mail button" appearing on the bottom and clicking "Continue".

Finally, take a preview and "Choose campaign".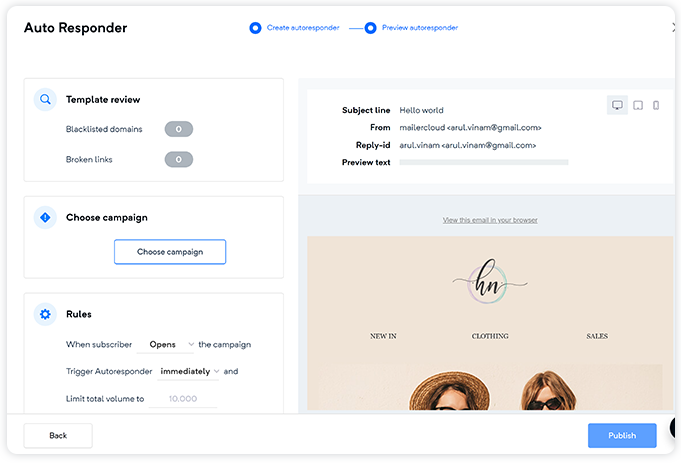 Autoresponders mainly consist of either educational or promotional content. Educational or know-how content might include videos, infographics, and free ebooks while promotional content can consist of offers and discounts. Ideally, it strikes the right balance between know-how and discount offers. The email sequence should be consistent in addressing your prospective customer's needs and highlighting your product or service's potential.
How do I use Autoresponders effectively?
An autoresponder is a very powerful email marketing tool. It specifically caters to follow-up emails to all the audiences who have triggered the primary campaign.
For example, imagine you are sending an email campaign regarding Health and Fitness, and you feel like sending some additional emails to only those interested in health and fitness. This is possible using a series of autoresponder emails. Your autoresponder emails reach the audience as soon as the recipient opens, clicks or in any way triggers the primary campaign.
Autoresponder increases audience engagement, email deliverability as well as conversion ratings. It also helps you in segmenting customers based on their interests and sending targeted emails.
Checklist before starting
It would be best if you prepared a highly engaging primary campaign. The open rates of your primary campaign determine the deliverability of your autoresponder.

After that, you must set up a sequence of emails with equally exciting subject lines and email content.

Finally, you must fix a perfect time for the autoresponder to be delivered, i.e. immediately or a desirable time after subscriber action.
Important FAQs
Can I set automatic replies to the emails?
Mailercloud lets you create automatic replies to the emails with the help of a feature called an autoresponder.
How I can track the performance of my running autoresponder campaigns?
You can easily track the performance of your autoresponder by clicking "Reports> Autoresponders" from the dashboard of your account.